#ASKWFTDA Recap
On July 21 WFTDA held an #ASKWFTDA session on Twitter. I was excited for this opportunity to get answers to burning questions from people in the derbyverse. I personally misread the timezones and fell asleep watching Brooklyn 99 during this time, but derby twitter had a ton of great questions!
Here are 12 important questions, answers (and lack of answers) I found very interesting from #AskWFTDA
Some answers were tweeted through the official WFTDA account and some answers came from personal accounts of board members @Victoriaously, @EricaIsBusy, @kweerious
1. Post Season Structure Alternatives?
With the backlash WFTDA has received since the release of the post season brackets on #Bracketmonday, this was obviously going to come up. WFTDA didn't really answer the actual question posed by Wednesday but they did give us some info on their thinking on how the current system can work.
2. Change to Tournament Announcement/Cut Off?
There was a lot of noise from the derbyverse about the very short turnaround for teams finding where they were sorted on #bracketmonday. For those going to Spain, they have just over a month to arrange hotels, rent cars, ask off of work, find childcare, and, for many, come up with over $2k just for a plane ticket! IN JUST A MONTH! Yeah, glad to hear WFTDA is making changes for next year.
3. Org-Wide Program to Help with Travel Costs?
Speaking of travel costs, I have thinking a lot about what we can do to make things easier for leagues. This idea from Weathrodite sounds great, but I'll be honest, I did not think of the flip side, that this would only profit like 30 teams out of 300. I very much want to continue this conversation about equity among member leagues! What are your thoughts?
4. Can We Plz Have Scores?
We've all been waiting for WFTDA to give us a resource for scores, stats and such. But, as with most organizations, they need help.
5. Would WFTDA consider program for real-time stat/score/penalty info?
SO I had no idea what BoutTime was but it sounds useful! Again, WFTDA needs developers to complete some of these highly desired products. If you are a Developer willing to work for little to nothing, contact WFTDA!
6. What's something WFTDA does you wish got more attention?
My girl Sprints (fellow State of Skate mod and general ray of sunshine) had a great, positive question for WFTDA.
I'm super interested to hear what WFTDA comes up with for 'what it means to be global'. I know their efforts to expand using playoffs this year didn't go smoothly but I'm sure they have a plan!
7. How Can WFTDA Make Derby More Accessible to People of All Income Levels?
Very big, important question that, understandably, WFTDA does not have an answer to. This is a discussion we all need to have so I'm very excited for the upcoming Town Hall!
You can register for the online WFTDA Anti-Discrimination, Anti-Racism, and Anti-Marginalization in Roller Derby Workshop happening on Saturday, August 4, 2018 here!
8. How is WFTDA helping to educate leagues on increased paid attendance?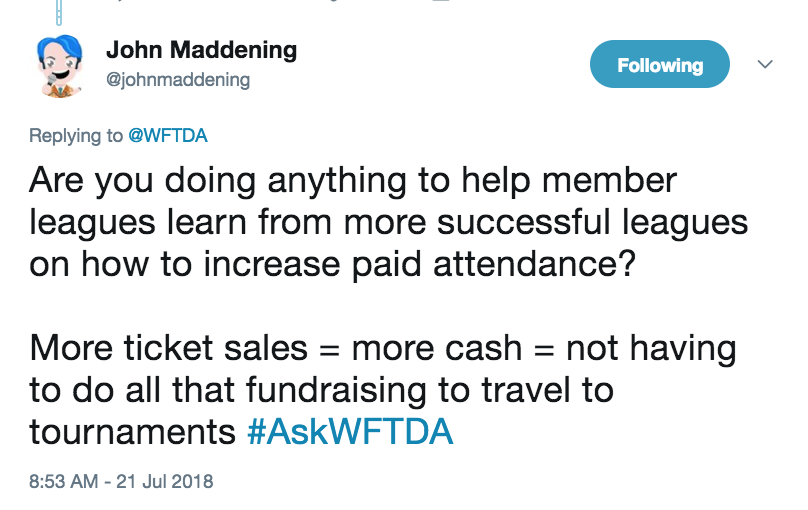 There is so much here I want more info on! I want to know more about how WFTDA "connects leagues with one another to spread information"! What resources came out of, and are planning to come out of, that Education Manager role? Has this Member Services Manager role been filled? How can we get WFTDA the data it needs about "the unique challenges in [our] markets"?
9. Structure Change to Include an Open Division or All Gender Leagues?
10. Is WFTDA Going to Help Boost Streaming Efforts?
I'm so happy someone asked this! Streaming is something I've been thinking about a lot lately- so much derby, all over the world, and I believe the sport will only continue to get better as we share this kind of resource. I hadn't thought of the flip aspect that Double H brings up in the answer.
11. Will WFTDA change decline policy?
"Members need to decide whether they truly want the chance to "move up" or have a true divisional structure... A fluid system can definitely be frustrating for these reasons."
"We are hoping to present a few ideas to membership to help teams communicate their post season concerns and intentions"
12. Can WFTDA Do Something about Currency Disparity?
Whoops, my ignorance is showing! I didn't realize this was an issue so I'm thrilled this was brought up!
Also, "... new membership structure overall, which includes recognition of and support for regional needs, including currency values"!? Excited to see what comes of this!
Overall, we got some really interesting info from WFTDA about their thinking, strategy and plans for the future but we did not always get answers to the questions asked.
I'm thrilled WFTDA is open to these sessions. I believe in WFTDA and want it to be the best it can be, but the way to do that is if everyone contributes their ideas for positive change! All of these questions bring up incredibly important discussions for us to have!
Join us in State of Skate for these vital conversations and more!