#AskWFTDA Recap - March 2019
WFTDA held another #AskWFTDA session yesterday, the focus being "…keeping the conversation going with our community around location choices for postseason and safety and inclusion at WFTDA events."
Answering for #AskWFTDA this session:
WFTDA Diversity and Inclusion Chair — Gloom, #GL
WFTDA Tournaments Manager — Suzy, #SS,
@GSORollerDerby president — Xena, #X
Greensboro Roller Derby PR Director — Katie Murawski ,#GR,
WFTDA Membership Services Manager — Dottie Damage, #DD
WFTDA Executive Director — Erica Vanstone, #HH

Q: Can WFTDA share more about the decision to choose NC?
Q: Will nonbinary people have a safe place to pee at the NC event? How will you guarantee this safety?
Q: Were there other options that met bid criteria?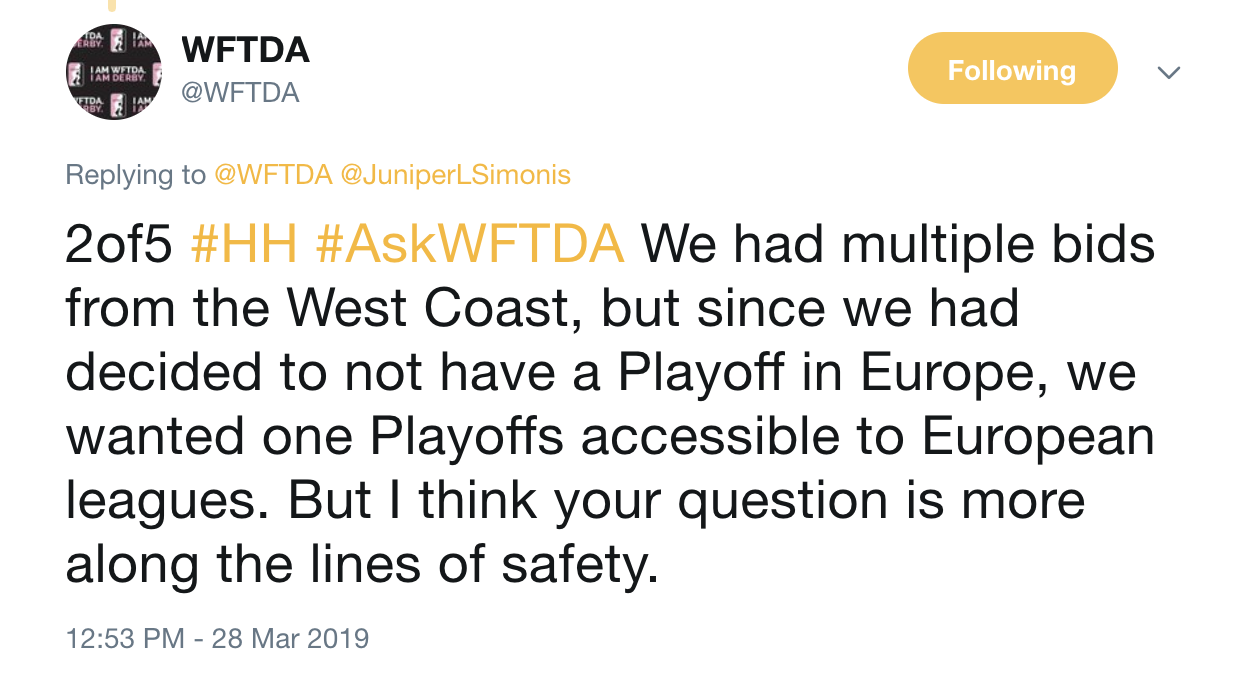 Q: Any update on the anti-bullying policies mentioned last time?
Q: What are you doing to make derby more inclusive for disabled or neurodiverse members?
Q: If someone has punitive sanctions from WFTDA, what stops them from moving to MADE, MRDA or JRDA?
Q: Any updates on the member trainings you mentioned last time?
Q: Any plans to increase dialog between WFTDA and members, stakeholders?
Q: What was up with that mysterious JRDA statement?