Roller Derby News: 👀 September 23- October 7
Hey there Derbyverse, it's Nox, welcome to The Weekly Roundup. This week is a double dose of derby news because sometimes life is hectic and I didn't get to make the Roundup last week.
This Week in Roller Derby News:
WFTDA Releases Sept. 30 Rankings and 2019 Championships Seeding
Applications for the 2020 WFTDA-Recognized Tournaments Program are open
MRDA Champs Bracket Released
MRDA Championships Officiating Crews Announced
Tiger Bay Announces 5 All-Star Retirements
Seattle Playoff MVP Klien Highlight Reel
British Championships Playoffs Archives Up
The Origin Story of Team Indigenous As Told by Co-Founder Jumpy McGee, aka April Fournier
The Origin Story of Jewish Roller Derby as told by Co-Founder Tiggz, aka Martine Dudinsky
This Might Hurt To Hear...Tough Love from a Coach
Power Through the 4th Whistle Roller Derby Podcast on iTunes
Response to FPFW 'article' on Roller Derby
Toe Stop Agility: Footwork on Roller Skates
Power Through the 4th Whistle Roller Derby Podcast FB Video
2020 Battle of the All Stars - Officials Application Form
Big O Tournament 2020 Team interest Form
ECDX 2019 Tournament Heads and GTOs Application
JDN's September 2019 World Rankings
JRDA Opens Applications for Regional Coordinator positions in Northwest, Northeast, and Southeast US
Scores:
Nah, actually, I'm not going to try to write all these out today but here are the standings after a big derby weekend!
EuroCup:
1st - Dock City
2nd - Antwerp
3rd - Kallio
4th - Perth
For scores check out WFTDA's stats site and #WFTDAFinalScore
Let's talk about:
There was a very terfy article about roller derby published by someone who clearly doesn't know anything about derby. I won't post it here, no need to spread that nonsense, BUT I do want to talk about how the derbyverse quickly made sure everyone knows that's not what we're about. Many leagues shared statements like those below, the teams in the photos asked to see the photo release, and #derbytwitter flooded the thread. OutSports has a nice write-up about it here!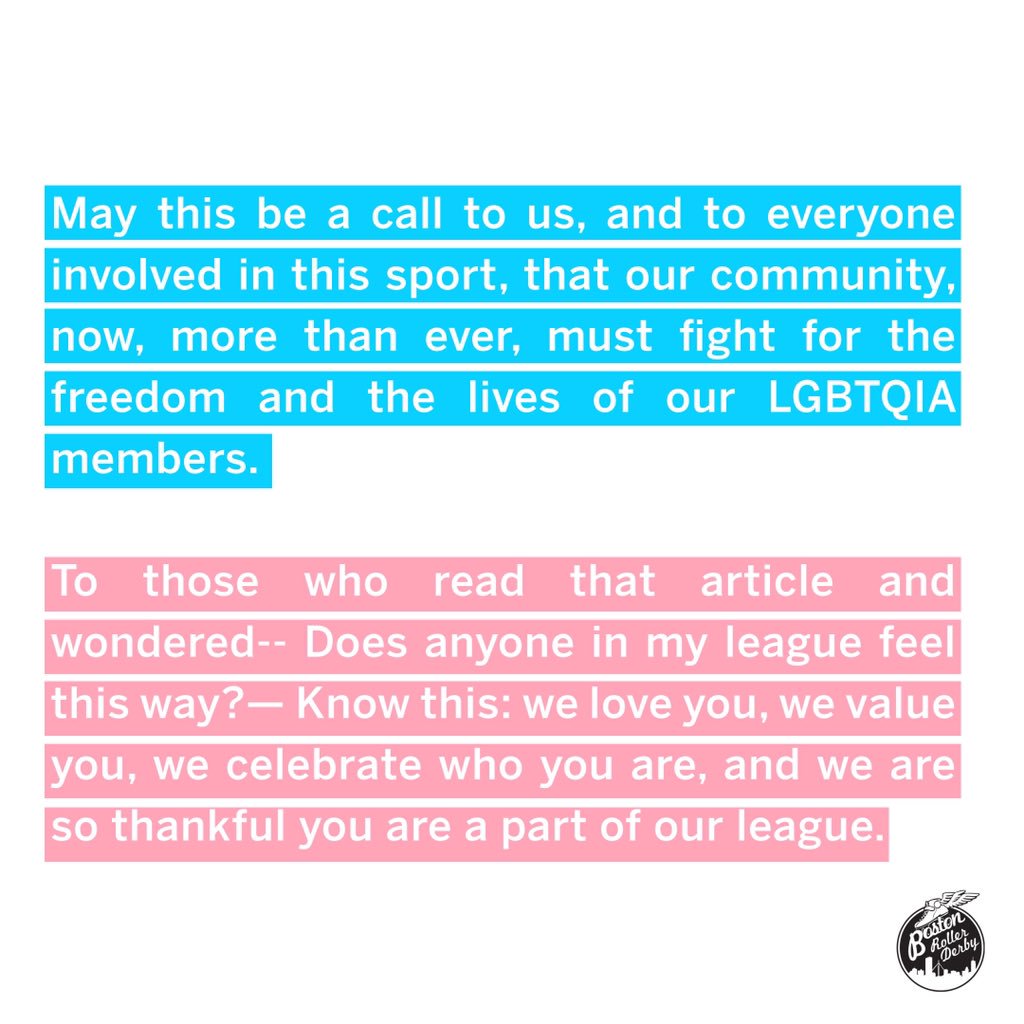 *Also everyone should be paying attention to the important conversations happening surrounded Moxi and CIB from Queer Skate Alliance, BIPOC, People in Bowls. I haven't had time to sit down and write a proper summary of the discussion (it's too important to half-ass) but just take some time to listen!
Fundraiser Highlight: Help Jewish Roller Derby get to Montreal!
As WFTDA and Team Indigenous worked together, further discussion emerged about the inclusion of another borderless nation. A team who represented a similar history of strength and resilience in the face of adversity, Jewish Roller Derby. This is the story of how "We Are Nation" was born. This is a game that will celebrate two teams on the biggest stage in the roller derby community as they claim that space for people traditionally marginalized on a global scale as well as within the sport. A game to claim space and celebrate a different way to define "nation". A game without borders.